News & Updates
Adult Registration is open!
Click Here
to register for the 2015 Summer session
Crews registered by May 1 get first priority for choice of time slots.
CMI welcomes back Betts Murray as Executive Director and Abi Kornet as Program Director for CMI's Adult Program.  Returning cox'n/coaches include Susan Bryant, Andrew Fewsmith, Kate Griffin, Abi Kornet, Eloise Lucas, Bryan Krumm, Kaye Slamp and Emma Taylor.  And we are introducing several new up & coming cox'ns who start training in mid-May.
Next Steps:  Contact your crewmates from 2014 to discuss your rowing times so that you can list your full crew and preferred times when you register. Don't have a ready crew? Register as an individual or partial boat and we will coordinate to make a full boat. See the 2015 CMI Program Calendar for more information.  Please email CMI with the email addresses of anyone new to CMIwho would be interested in receiving this information.
Tell your friends about Learn To Row
CMI's popular Lean-to-Row ("LTR") returns!  2015 Sessions for new adult rowers will be held the weekends of May 16-17 and 23-24.  Back by popular demand, LTR will be led by CMI founder and rower extraordinaire Jack Buckley.  LTR is an opportunity for those new to rowing to try it out before committing to a full summer.  The LTR fee will be applied to the full summer season for those who want to continue.  Join LTR and see what the buzz is about!
Next Steps:  Please email CMI the email addresses of friends to add to CMI's email list for LTR.  You may register for LTR as part of our Adult Registration.
Monday April 13 7pm, Duxbury Maritime School
Row 'round the world!
All CMI members and friends are invited to meet Sarah Outen, who is rowing/kayaking/biking herself around the world.
Next Steps:  See London-to-London to see Sarah's high tech rowboat!  Contact Betts Murray for more information.
Starting Sunday April 19, CMI Boathouse
Pre-Season Indoor Rowing Clinic
CMI is pleased to offer a special pre-season indoor rowing clinic to get our winter selves ready for summer rowing!  BeginningSunday, April 19th through Saturday, May 16th, Abi Kornet will be leading sessions for both individuals and groups.  These coached sessions are a great opportunity to improve your technique, strength and agility, so you can get the most out of your rowing when we get on the water in six weeks!
Next Steps:  Please contact Abi Kornet if you are interested.
Saturday April 18 10am, CMI Boathouse
Boathouse Spring Cleaning
Annual spring cleaning at the boathouse is Saturday April 18 10am.  Please come lend a hand to get the boathouse in great shape for our youth and adult programs.
Next Steps:  Bring a broom and dustpan, a rake, window washer and paper towels or just yourselves.  Contact Doug McLellan if you are able to help.
Respond by April 23
Want to enter the Essex River Race?
CMI's Racing & Events Committee has published the 2015 CMI Race Calendar.  For the Essex River Race onMay 16, we are requesting indications of interest by April 23 from crews and individuals who want to be considered for the two adult Fours racing that day.Next Steps:  Contact Mike Novak with the names of your crew (4 or 5 people, you may want a sub ready) or your partial crew or your individual name by April 23rd.  Crews will be announced/notified soon after so that participants may plan accordingly. We'll have a lottery if over-subscribed.
Saturday, April 25 10am, CMI Boathouse
CMI Open House
CMI welcomes prospective adult and youth rowers to our spring Open House on Saturday April 25 from 9am to 11am. It's a great opportunity to learn about adult Learn To Row, youth "Try It" sessions, and adult and youth summer rowing.Next Steps:  Encourage your friends to visit us to see what rowing at CMI is all about.  Please send CMI the email addresses of friends to add to CMI's email list for the Open House.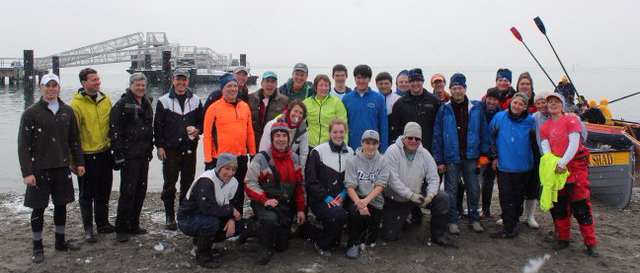 Congratulations to CMI's Snow Rowers who dodged ice flows, braved snow squalls and represented CMI exceedingly well during HLM's Snow Row on March 21.  More pics are available on CMIs Facebook page.
Congratulations
to the
CMI
rowers who survived the Indoor Rower 60-minute relay at the Iceberg Classic in February at Reebok Cross Fit sponsored by Hingham High Rowing team.
See CMI's new Indoor Rowing Machines
CMI
is the proud owner of six new Concept 2 Indoor Rowers!  Our youth rowers can already attest to the smooth action of the new equipment.  The Adult program will use these for training, instruction and during inclement weather.
Next Steps
:  It's a great idea to warm up on the erg for 5-10 minutes before you go on the water during rowing season.
Want to do more with CMI?
The Board of Directors of CMI invites you to get involved withCMI!  We'd love to have your participation, ideas and energy. See CMIs new Committee Organization  to see where your talents fit.
Next Steps:  Contact one of the committee chairs above for more information!
Starts June 22
Youth Summer Rowing
Youth summer rowing is June 22-August 13 for those entering 7th grade and higher.  Registration info will be emailed in early June.
Next Steps:  Please send CMI the email addresses of families or youth to add to CMI's email list for youth rowing.
Any members who would like to contribute their rowing, racing, and CMI-related photos to CMI's website and social media  please contact Ryan Railton. All contributors will receive credit for their photos.
Next Steps:  Please contact Ryan Railton.
We are excited about what's in store for 2015, and the great enthusiasm and support of our rowers and
CMI
families.  Feel free to contact
George Baumgarten
, a Program Director or any member of the Board if you have questions or are interested in being more involved with
CMI
.
See you on the water!