News & Updates

CMI is happy to invite you to our biggest social and fundraising event of the summer, our Summer Splash, on August 8th. Celebrate the Row The Distance campaign and enjoy drinks, light fare, live music courtesy of Billy and the Goats, and a silent auction all on beautiful Cohasset Harbor.
Click here for more information, and to register now!
---

Mark your calendars! On September 13, 2015, CMI is hosting the Minot Light Roundabout. As those of you at last year's race may recall, it was a true open water event, raced in challenging 3-4 foot seas. CMI will work with US Rowing to make the Minot Light Roundabout an event officially sponsored by US Rowing / Coastal Rowing. This trial event will help CMI and other rowing clubs to determine how best to work with US Rowing to align with international standards for races established by World Rowing.

---
Interested in racing this year? CMI's Racing & Events Committee has published the 2015 CMI Race Calendar. Contact Mike Novak to learn more!
 Congratulations to CMI's Essex River Race competitors! A full fleet of five boats enjoyed a beautiful day of racing on May 16th.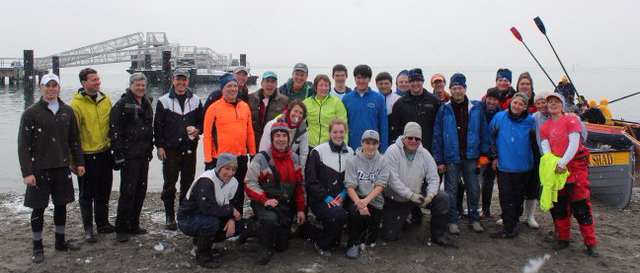 Congratulations to CMI's Snow Rowers who dodged ice flows, braved snow squalls and represented CMI exceedingly well during HLM's Snow Row on March 21.
---
Congratulations
to the
CMI
rowers who survived the Indoor Rower 60-minute relay at the Iceberg Classic in February at Reebok Cross Fit sponsored by Hingham High Rowing team.
See CMI's new Indoor Rowing Machines
CMI
is the proud owner of six new Concept 2 Indoor Rowers!  Our youth rowers can already attest to the smooth action of the new equipment.  The Adult program will use these for training, instruction and during inclement weather.
Next Steps
:  It's a great idea to warm up on the erg for 5-10 minutes before you go on the water during rowing season.
Want to do more with CMI?
The Board of Directors of CMI invites you to get involved withCMI!  We'd love to have your participation, ideas and energy. See CMIs new Committee Organization  to see where your talents fit.
Next Steps:  Contact one of the committee chairs above for more information!
Any members who would like to contribute their rowing, racing, and CMI-related photos to CMI's website and social media  please contact Ryan Railton. All contributors will receive credit for their photos.
Next Steps:  Please contact Ryan Railton.
We are excited about what's in store for 2015, and the great enthusiasm and support of our rowers and
CMI
families.  Feel free to contact
George Baumgarten
, a Program Director or any member of the Board if you have questions or are interested in being more involved with
CMI
.
See you on the water!