News & Updates
Sunday January 31 5pm

.
Cohasset Lightkeepers Cottage
CMI Chili Cook Off & Annual Meeting
Back by popular demand, our 2nd annual Chili Cook-off is a fun and spectacularly tasty event for all CMI members, families and friends on a non-football weekend!
We will also hold our CMI Annual Meeting and welcome new directors to the Board!
Next Steps
:  Please mark the date on your calendar, and look for an invite coming soon! Contact 
Lisa Hewitt-Dick
 if you have questions regarding Chili. Contact
George Baumgarten
with questions about Annual Meeting.
Name the Boat!
CMI has commissioned a fifth four for delivery this May. We are running a campaign to honor John Liffmann, current Youth Program Director and one of CMI's founders, to name this new boat in memory of John's parents, Ann and Eddie Liffmann.
March – June. CMI Boathouse
Youth Rowing – Coaching Opportunities
CMI is seeking adults with rowing experience who are interested in assisting in coaching CMI Youth on land and/or on water this spring.
Next Steps
:  If you are interested, or if you know someone who may be interested, please contact
Betts Murray
or
John Liffmann
.
Saturday January 30 8:30am-1pm, Hull Lifesaving Museum
CRASH Bobs
A warm up to February's CRASH B Sprints,
theCRASH Bobs are a chance to test your indoor rowing fitness and undertake the notorious Liffmann Challenge, a 5K row and 5K run through the hills of Hull.
Next Steps:  Those participating in the Liffmann Challenge must pre-register by phone(781-925-5433) to reserve an erg seat.
Saturday, February 27. Hull High School
38th Annual Snow Row
HLM's signature-rowing race, theSnow Row covers a 3 3/4 mile triangular course starting off the beach at Windmill Point.  CMI had a wonderful showing in 2015, let's do it again.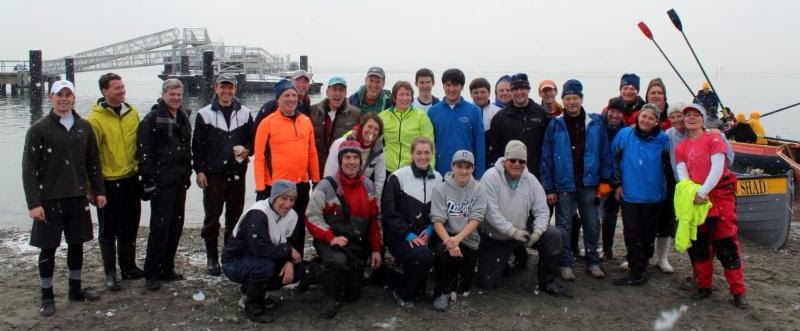 Next Steps: We are soliciting indications of interest from youth and adult crews. If youryouth crew is interested, please contact John Liffmann.  If your adult crew is interested, please contact row.cmi no later than Monday Feb 8 so that CMI can select crews.
Sunday February 28
, BU's Agganis Arena
The 2016 C.R.A.S.H.-B. Sprints will be held on Sunday, February
28th, 2016 at
Boston University Agganis Arena
. The C.R.A.S.H.-B. Sprints is a one-day racing event. Admission is free to all spectators. An singular and amazing event.
Next Steps
:  Registration is open thru
January 29
by 
clicking here
.  Contact
John Liffmann
if you are interested in participating.
Sunday February 28
, BU's Agganis Arena
Buy a one-day old Concept 2 Indoor Rower?
For your information, 
Concept 2
will have the following model indoor rower for sale immediately following the The C.R.A.S.H.-B. Sprints this year:
Model D with PM5 monitor, black, for $765.00 plus MA tax of 6.25% for a grand total of $812.81.  
In years past, all ergs have been pre-reserved for purchase 4-5 weeks ahead of the event.
Next Steps
:  This is FYI, CMI is not coordinating your purchase. To place an order please
email
 or call
800.245.5676 ext 3030
 with the number of indoor rowers that you would like along with the name, address, contact phone number, and email address of the person or organization these rowers are for.  Once Concept 2 has that information, they will include you on the reserved list.  Shortly thereafter, Concept 2 will contact you for the payment information (which will be charged a couple of days prior to the event). Pickup is at BU
5pm
February 28
.
January – March, CMI Boathouse
Adult Indoor Rowing at CMI
CMI is pleased to offer indoor rowing on the Concept 2 ergs — available for adults on a self-scheduled basis, in coached clinics and in personal training sessions with Abi Kornet.
Next Steps:  See CMI Indoor Rowing / Winter Erging for details.